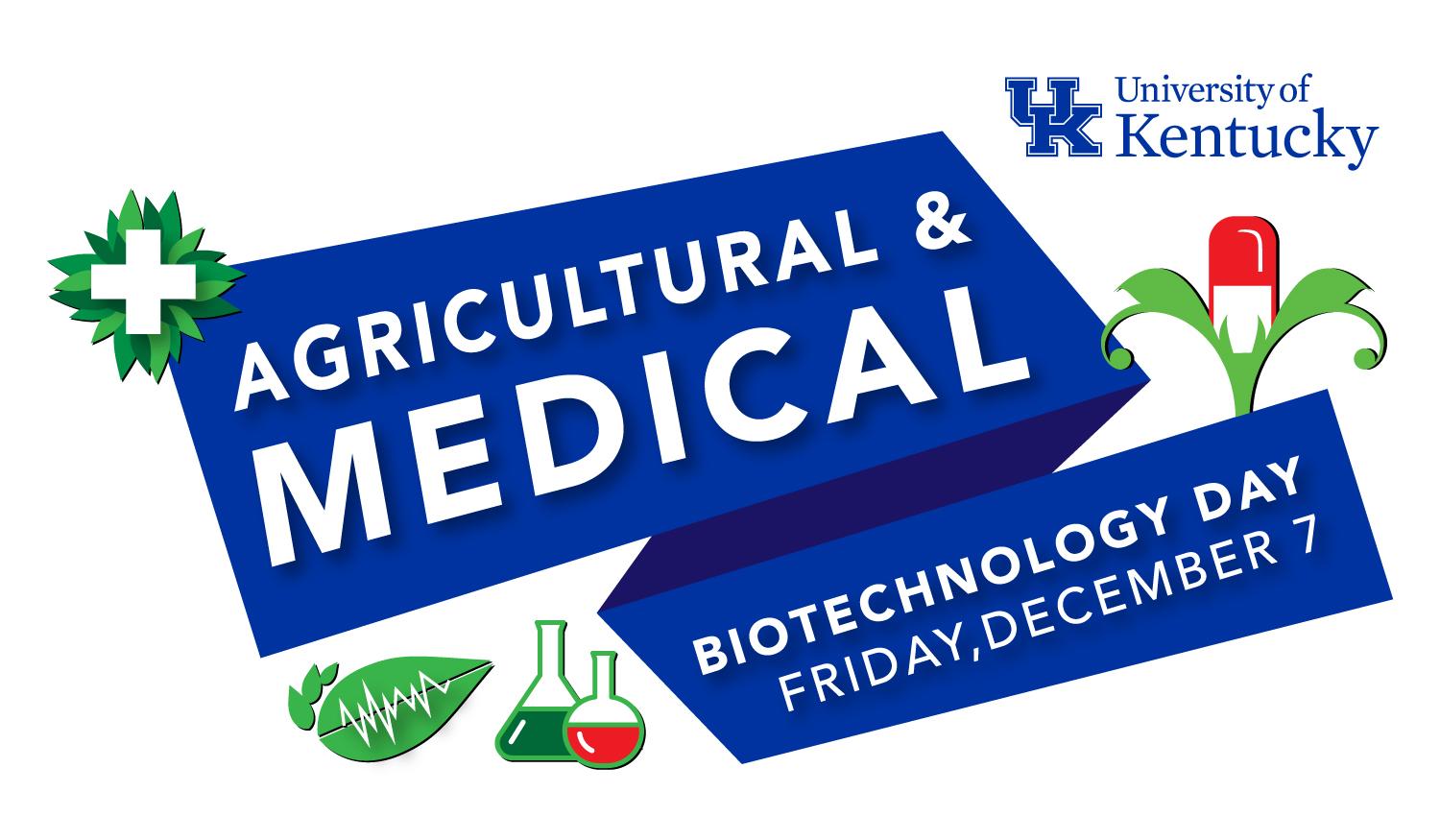 On Friday, December 7, the University is hosting its Agricultural and Medical Biotechnology (ABT) Day for high school juniors and seniors. This free event is an opportunity for students pursuing various STEM careers, including medicine and pharmacy, to learn about the ABT program and explore campus life at the University of Kentucky. 
Tentative Schedule
| | |
| --- | --- |
| 12:00 - 12:30  | Registration |
| 12:30 - 1:30 | Lunch, ABT Overview and Introductions |
| 1:30 - 2:30 | University of Kentucky Campus Tour |
| 2:30 - 4:00 | Tour ABT Research Laboratories |
| 4:00  | Closing, Q & A Panel with ABT Students  |
| | |
| | |
Questions may be directed to Lindsay Vance, Center Relations Manager. 
Academic Common Market
Thanks to special state agreements through the Academic Common Market, students from the following states may enroll in the University of Kentucky Agriculture and Medical Biotechnology program at in-state tuition rates: 
Delaware
Georgia
Maryland 
Tennessee 
West Virginia
ABOUT THE PROGRAM
Biotechnology involves genetic engineering, antibody and vaccine production, fermentation technology, plant regeneration from single cells, and many more emerging scientific techniques.
The challenges of Agricultural and Medical Biotechnology (ABT) are to expand its usefulness by identifying and cloning new genes and traits, developing new diagnostic tests and vaccines, and continuing to use these tools to better understand the plants, animals, and microbes that make up our world.
Scientists have a new set of tools through Agricultural and Medical Biotechnology:
Plant, animal, and human disease diagnosis relies heavily on biotechnology for answers to age-old questions.
Recombinant DNA technology (genetic engineering) provides enormous potential for detecting, modifying, or adding genes into organisms. We are no longer limited to the gene pool within a species.
Fermentation biotechnology has led to the production of new livestock food additives, vitamins, and growth hormones,
All in a fraction of the time it once took entire research teams to accomplish similar tasks...
"ABT offers an exceptional opportunity in a wide range of scientific areas. The faculty helped me with internships, job opportunities, professional advice, and personal advice; even as a professional, after graduate school, I still turn to them—the faculty make the College of Agriculture special." - Warren, ABT Alum
"As a high school student I was nervous about attending a big university like UK. Well, I worried for nothing. The College of Agriculture is small and personal, so I'm getting a great education in a place that's friendly and helpful." - Holly, ABT Alum
Pre-Professional Advising 
Many ABT graduates go on to medical school, pharmacy school and other professional programs. For more information on the pre-professional advising in our college, click the links below. 
Quick Links (Videos)
Never been to the Horse Capital of the World?! Well, you're bound to find small-town charm with big city opportunity.  Click here to explore the VisitLex website.